Welcome to the Daddy Funk drums website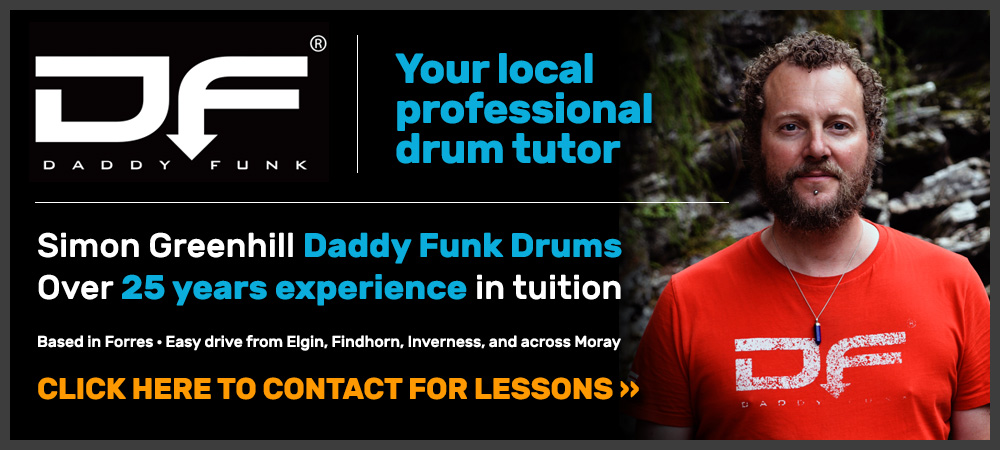 You have obviously found us because you want drum lessons from an inspirational and super talented teacher. Good choice!
Located near Forres & Elgin, providing live drum lessons for students from Elgin, Findhorn, Inverness, Lossiemouth, Nairn, Grantown On Spey and across Moray. Daddy Funk Drums provides a unique drum tuition environment. Students from further afield can be catered for with Online drum lessons - we currently host lessons online for players across the UK.

Scotland's music scene needs no introduction, having supplied the music industry with top ten acts for decades. It continues to feed new blood into an ever changing market. Live music covering all styles remains a key entertainment choice, and the traditions of the past find new expression in the music of the present.

Moray has a growing reputation as a creative hotspot in the Highlands, with a cultural network focussed on attracting and developing creative types, and we're confident that it's a great location for the continuation of our drum school. When we found out how few drum teachers in Moray were offering tuition without the grade system, we knew we'd made the right choice.

Scotland is justly famous for its beauty and expansiveness, and that vibe finds free expression in the region's music - a smorgasbord of styles and genres resulting in an array of talent like the Average White Band, Biffy Clyro, Primal Scream, Hue and Cry, Orange Juice, Runrig - it's a LONG list.

It therefore goes without saying that musical expression for a Daddy Funk Drums student can reach further than just 'Rock School' with all genres covered including Jazz, Drum & Bass, Hip Hop grooves, Jungle, Grime, Dub-Step, Pop and of course Funk.

You can read all about the style of drum lessons and teaching methods we provide here and don't forget to check out the instructional videos to get a feel for what your lesson will be like.

Choosing the right Drum Teacher is an important step. Whatever your level of development or desired outcome, Daddy Funk Drums can make your lessons as bespoke as the OCDP drum kit you'll be learning on. Learn to play drums at your own pace and develop your own style.

Proudly associated with BR Distribution and John Hornby Skewes & Co
As an artist and endorsee associated with BR Distribution, Daddy Funk Drums is able to supply students with high quality, great value drum equipment from well-known brands including Istanbul Agop, Ahead and many, many more. In addition, you can purchase Los Cabos drumsticks alongside many other well known percussion products through our association with John Hornby Skewes & Co.
View the ranges available from Daddy Funk Drums in association with BR Distribution ›› and John Hornby Skewes & Co ››


Please note, BR Distribution and John Hornby Skewes & Co *do not* sell directly to the public.