The History and Progression of Urban Rhythms
6 drumming video lessons by Daddy Funk Drums, your Urban Rhythm Tutor. Click the banner to watch now!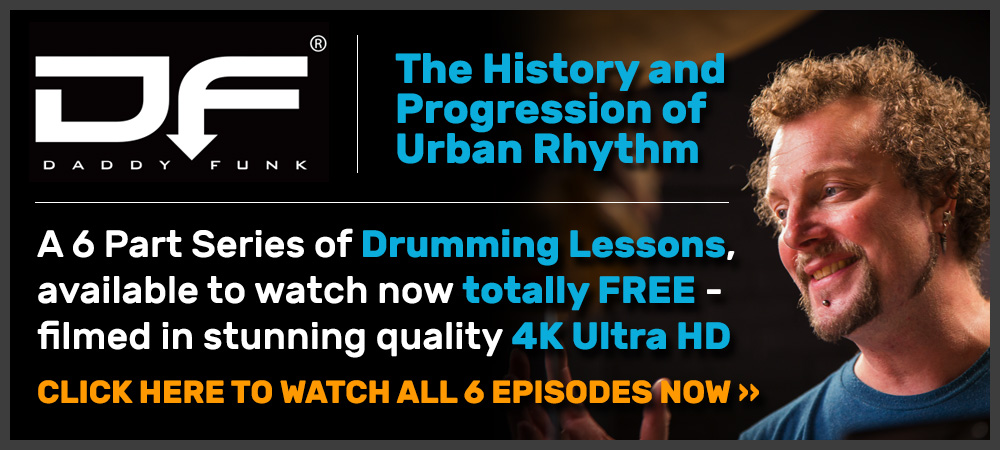 Full length Drumming documentary in 4K HD
Simon Greenhill / Daddy Funk Drums discusses his background as a drumming tutor

The Drum n Bass Promo Trailer for The History & Progression of Urban Rhythm Series

Endorsements - New Video about our much loved Endorsements

Real, Visceral 180 BPM Jungle Drumming Video

Intense Drum & Bass Drumming Video - HD Multi Camera Goodness

Multi Camera, HD Drum Performance Video

Multi Camera, HD, Hip Hop Drum Performance Video

One take rock drumming in the studio

The Funky Drum Solo from 2006

Proudly associated with BR Distribution and John Hornby Skewes & Co
As an artist and endorsee associated with BR Distribution, Daddy Funk Drums is able to supply students with high quality, great value drum equipment from well-known brands including Istanbul Agop, Ahead and many, many more. In addition, you can purchase Los Cabos drumsticks alongside many other well known percussion products through our association with John Hornby Skewes & Co.
View the ranges available from Daddy Funk Drums in association with BR Distribution ›› and John Hornby Skewes & Co ››


Please note, BR Distribution and John Hornby Skewes & Co *do not* sell directly to the public.